A Return To Normalcy Likely In 2021
COVID-19 and the election are the significant focus as we enter 2021.
The impact of COVID-19 in 2020 was significant, and people are growing weary of the "new normal" consisting of limited crowds, mask-wearing and quarantines. The rapid spread of the virus was concerning; the rapid development of vaccines was impressive. The good news is 2021 should see a shift towards normalcy. As high risk groups receive the vaccine, large drop offs in hospitalizations and deaths are expected.
The new Biden administration is expected to be very active in its first 100 days. We will likely see focus on public health including a "100 day mask challenge." This challenge aims to encourage Americans to mask up in hopes of easing—maybe lifting—restrictions by May. The President is also expected to focus on the message that the vaccines are safe and effective to encourage acceptance.
By the middle of the second quarter, the vaccine is projected to be available to any American who wants to receive it. As more Americans receive the vaccine, mask restrictions will likely be lifted, though some degree of restrictions on crowd size may remain. During the second half of 2021, "herd immunity" and a shift to a more normal lifestyle is likely.
With all being said, experts still advise to expect the unexpected since there are unknowns that could hamper progress.
The Entrance Of Biden And The Market
After the election in November and runoffs in December, the Democrats control the White House, the Senate, and the House of Representatives. This "Democratic sweep", as it is referred, will have effects on the economy and the market as the new administration sets new priorities for the term. While COVID-19 response is still on the list of priorities, Biden's administration will make pushes in the areas of the environment, energy, manufacturing, trade, and consumer protections. Biden himself is projected to roll out executive actions on climate and foreign policy.
Since there is a tie in the Senate, control will go to the party of Vice President Harris which makes a Democratic majority. With that, the Democratic Senate Majority Leader will have say over the bills and nominees that will get to a vote in the Senate. These are expected to include further fiscal stimulus and confirmation of key cabinet appointments.
Biden and several of his cabinet picks suggest they will be prioritizing the recovery of our economy and growth over a regulatory agenda. In the short term, elevated volatility may occur due to policy uncertainty, but the long term expectation is that steps will be taken to aid recovery and increase federal spending to support positive market sentiment. Though the election brought a shift in our government, expect moderate policy changes as the economy is expected to be the number one priority.
Economic Snapshot
The surge in COVID-19 cases is expected to result in slower growth into early 2021.However, the distribution of vaccines should lead to a sharper pace of recovery in the second half of the year. Spending on consumer durables may moderate as spending on consumer services improves, but services account for a much larger portion of consumer spending. The Federal Reserve has signaled that it will be more tolerant of higher inflation, but inflation is likely to remain low until the economy more fully recovers.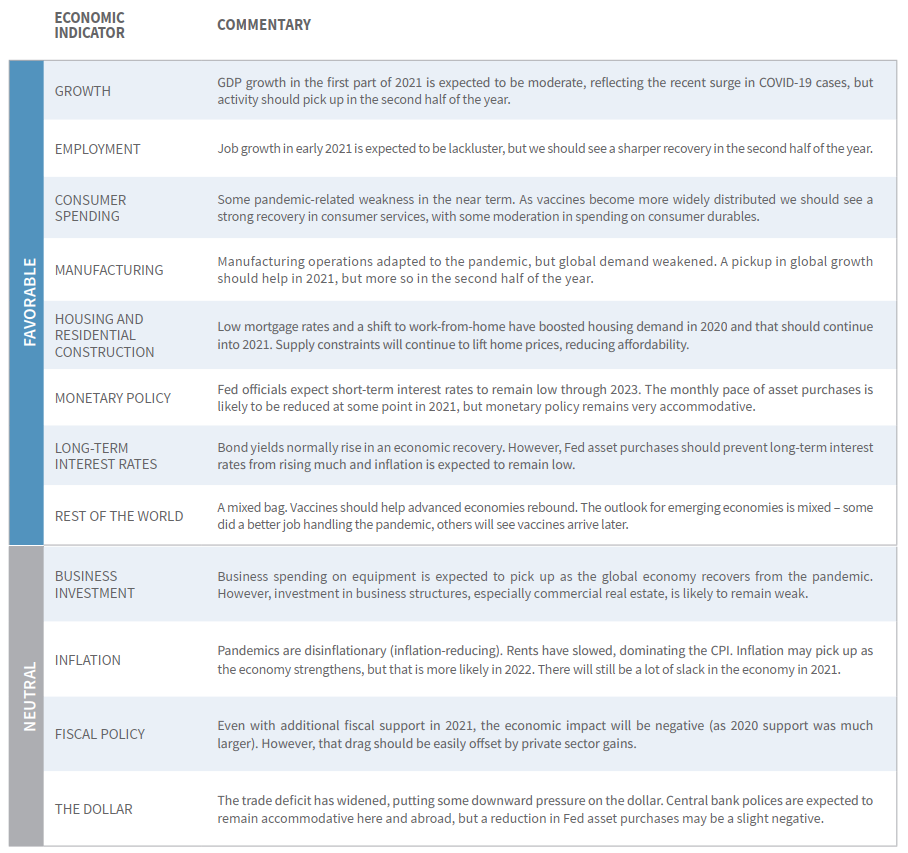 Raymond James. "Economic Snapshot." Investment Strategy Quarterly. Pg. 29, Web.
Raymond James, "COVID-19: An Unprecedented Year." Investment Strategy Quarterly. Pg. 6-8.
Raymond James, "An Effective Vaccine Has Arrived (Actually, Two)!" Investment Strategy Quarterly. Pg. 9-11.
Raymond James, "2021 Washington Outlook: The Impact of the Biden Administration on the Market." Pg. 15-1.
Investing involves risk, and investors may incur a profit or a loss. Past performance is not an indication of future results. There is no assurance that any forecast mentioned will occur. Expressions of opinion are as of this date, subject to change without notice and are not guaranteed to occur. Some material in this newsletter prepared by Raymond James for use its financial advisors. This information is not a complete summary or statement of all available data necessary for making an investment decision and does not constitute a recommendation. All opinions are those of the author and not those of Raymond James. Investing in oil involves special risks, including the potential adverse effects of state and federal regulation and may not be suitable for all investors.
Posted January 25, 2021 in Articles Market Updates