COVID-19
The emergence of the coronavirus as a global pandemic was a 'Black Swan' event outside anyone's scope. Its discovery clouded the near-term economic outlook and created unparalleled market turbulence. Development of drugs to treat the disease and vaccines to pre-vent contraction of the disease has begun. These tasks will take time.
The Economic Impact
Mitigating this downside risk to the economy is the policymaker's quick response. The Federal Reserve (Fed) has been and will remain proactive. Even after implementing two inter-meeting interest rate cuts – action rarely taken – to reduce interest rates to zero and once again employing massive trillion-dollar facilities, the Fed is still exploring ways to make sure the gravity of the situation does not cause the lending markets to function inefficiently. While these measures cannot cure the health crisis, they should help boost confidence and support a rebound in growth over the medium to longer term. Congress and the Trump administration have executed several phases of their fiscal stimulus mission. While the health and welfare of citizens is at the forefront of any president's mind, President Trump has a heightened incentive to keep the economy shining bright to maximize his chances of a successful re-election campaign. Combined, the record-setting stimulus packages will put more than $2 trillion into the hands of consumers, small businesses and distressed industries (e.g., airlines) in hopes of easing the economic impact of the virus. After the best year for equities since 2013, the 33% plus corona­virus-induced decline has brought investors back down to earth by ending prolonged depressed levels of volatility, heightened levels of complacency, and the second-longest bull market in US history. Once fears subside and the benefits of global monetary easing are felt, attractive valuations should entice investors back to the equity markets.
Oil and Gas
Although a long-term positive for the global economy, oil prices have fallen to levels not seen in a long time. The emer­gence of the oil price war between Saudi Arabia and Russia, compounding the dramatic fall-off in global demand (estimated to be worse than the 2008 and 2009 declines combined) has resulted in prices at which the global oil industry cannot sustainably function. After several days of intense negotiations, members of the Organization of the Petroleum Exporting Countries and allies, collectively known as OPEC+, agreed Sunday to cut overall crude-oil production by 9.7 million barrels a day starting on May 1 through June 30 of this year. The oil market is facing an unprecedented one-two punch, but it is predicted to recover by 2021.
Long-Term Outlook
While the market volatility can feel unsettling, it represents an opportunity for the long-term investor.
Economic Snapshot
COVID-19 will have an uncertain impact on the US economy. Much depends on whether the spread of the virus can be slowed, whether there will be an effective treatment, and how long extreme social distancing lasts. The Fed has worked to ease credit strains and prevent a broader financial crisis. Fiscal stimulus won't prevent the economy from weakening but will limit the damage and should help in the recovery. However, there are likely to be long-lasting changes to economic activity when the virus passes.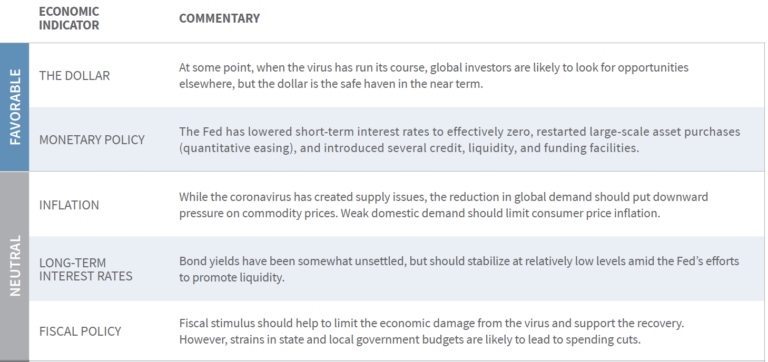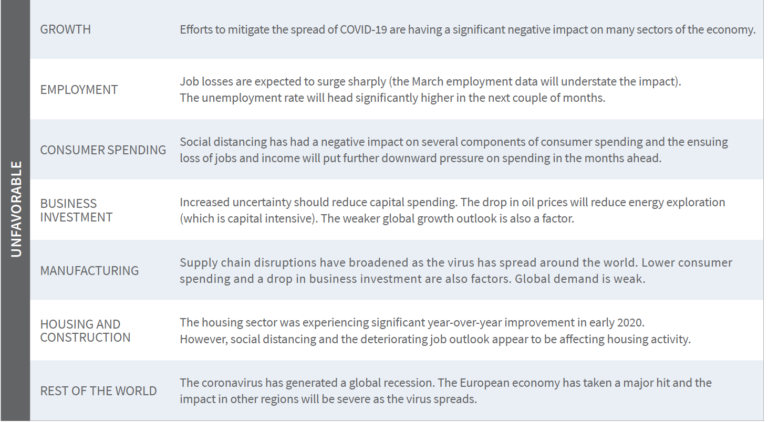 Raymond James. "Economic Snapshot." Investment Strategy Quarterly. Pg. 17, Web.
Raymond James, "Investment Strategy Quarterly Recap." Investment Strategy Quarterly. Pg. 2,3, 4, 7 Web. To request a full copy of the Raymond James report, please contact our office Investing involves risk, and investors may incur a profit or a loss.
Past performance is not an indication of future results. There is no assurance that any forecast mentioned will occur. Expressions of opinion are as of this date, subject to change without notice and are not guaranteed to occur. Some material in this newsletter prepared by Raymond James for use its financial advisors. This information is not a complete summary or statement of all available data necessary for making an investment decision and does not constitute a recommendation. All opinions are those of the author and not those of Raymond James.
Posted April 24, 2020 in Investments News Articles